Well it's been almost 3 weeks since Convergence 2013 in New Orleans ended
I spent lots of time in the French Quarter. In between catching up with old friends and meeting some new friends and listening to music and eating gumbo and beignets and drinking café au lait and sazeracs and wandering around gazing at the architecture and riding a bicycle through the garden district looking for Archie Manning's house, I somehow found time to attend all of the Management Reporter classes.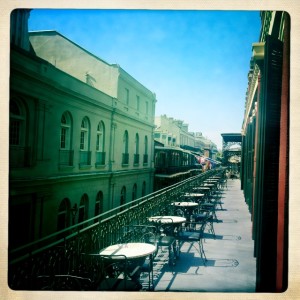 To condense it, here are my top 5 Management Reporter takeaways:
Emphasis on the new Web Viewer—Microsoft didn't show the MR Report Viewer at all. Not once. Interesting! Furthermore, I was bitching whining to the folks at the tech support booth about one particular bug issue where a column header doesn't line up correctly, and was told that it won't be fixed in the Report Viewer because it doesn't happen in the Web Viewer. Furthermore, looks like most of the new features coming are Web Viewer related. Device can be PC, phone, tablet, so you're able to see reports on your iPad. How cool is that. So…the Web Viewer is the future.
Collapse Details—I was drooling over this one. In the Web Viewer you can collapse data between TOT and DES rows to provide a summary and detail report from a single row definition. Wow. I started looking for this, but found that it's not exactly here yet. It's supposed to be in Rollup 5 due out late this month. I cannot wait!
Everybody's going to the Datamart—from talking to people behind the scenes, it sounds like the legacy provider (the direct connection to the GL) will be eventually be phased out and everyone will end up on a datamart. When I raised an "are-you-kidding-me" eyebrow over that, and asked about all the AX datamart issues, I found that AX on RU4 is solid: there are no known issues. GP on the datamart needs RU4 plus a hotfix that was released 3/15/13. So—heads up on this eventual architecture change. Don't quote me on the timing, but once the datamart has every feature that the legacy provider has, the legacy provider might be phased out within a couple of quarters. Significant—there won't be bug fixes for the legacy provider.
SharePoint distribution—I saw lots of report links generated to SharePoint document libraries. Click a link with a late model browser and up pops the Web Viewer. Sweet. The user manages the email alerts; he/she sets up and chooses type and frequency.
Report Design ideas—really interesting things like using color shading for different sections of a detail report (like blue for revenue, green for operating expense, etc). So much easier on the user. I saw a really cool one page combination Balance Sheet and P&L. And a fabulous board reporting package that combined MR, Excel, Powerpoint to create a table of contents, budget highlights with a graph, text. There was a Rolling 12 report for 17 entities with varying year ends. Last but not least, there was a customer list with the main account in the columns plus a tree rollup by region.
My biggest disappointment—View Subtotals continues to go missing from Management Reporter. Not to be overly melodramatic or anything, but this one is killing me.
Cheers—Jan