Sorting in Management Reporter 2012
Here's sort of a hidden setting that I think almost everyone should know about. It impacts how your accounts sort when you drill down.
I've drilled down on Operating Expense
Notice these accounts are sorting by segment 1 which happens to be department in this database. But I want my drilldown to sort by the natural account and definitely not by the department as shown here.
By default, Management Reporter sorts accounts by segment 1, whether or not it's the natural account.
So this can drive you crazy if you don't know about the setting I'm about to show you.
The 'Sort by Natural' checkbox is buried on the Account & Transaction Detail tab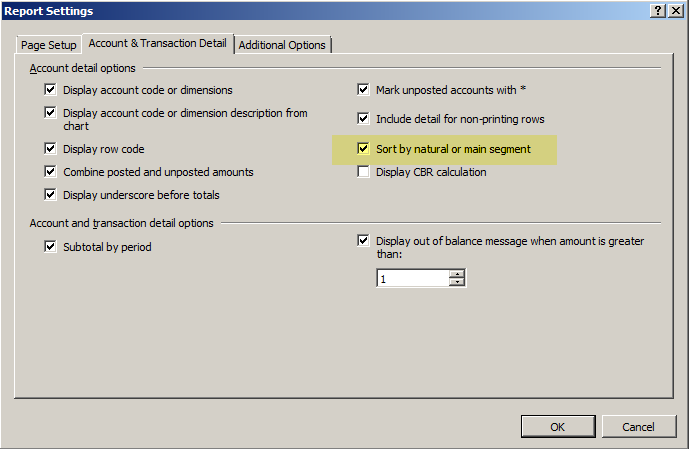 I think it should be checked on by default. But it's not.
But here's where it is:
In the report definition, Settings tab, Other button, Account & Transaction Detail tab, check 'Sort by natural or main segment'.
Results are sorted by the natural account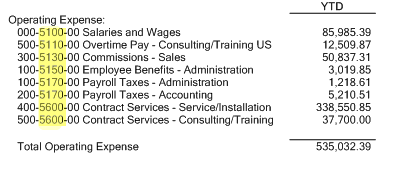 Here's the same drilldown with the checkbox on. This looks a lot better, right?
Besides regular everyday use:
Where this gives a lot of bang for the buck is when you've got a trial balance with every account, and it's sorting by the department first, meaning the P&L accounts are mixed in with the balance sheet accounts. Go check this box, generate, and you're good to go.
Another place this pays is on the datamart version of Management Reporter on AX 2012. For some reason, the main account isn't ever the first segment (except in AX) because it's listed in alphabetical order (under M for main!) with all the other dimensions. Go figure. Go check this on and drilldowns make lots more sense.
Cheers—Jan