How to use AX Attributes in MR to get lots of drilldown information about a transaction
There are tons of new attributes available for AX in the latest release of Management Reporter 2012 CU6.
[aka version 2.1.6041.36, aka Cumulative Update 6]
BTW, all these concepts hold true for GP and SL too. You'll just see a different list of attributes.
These attributes will give you lots of information at the transaction level when you drill down. Here's how to set it up.
Use the ATTR column type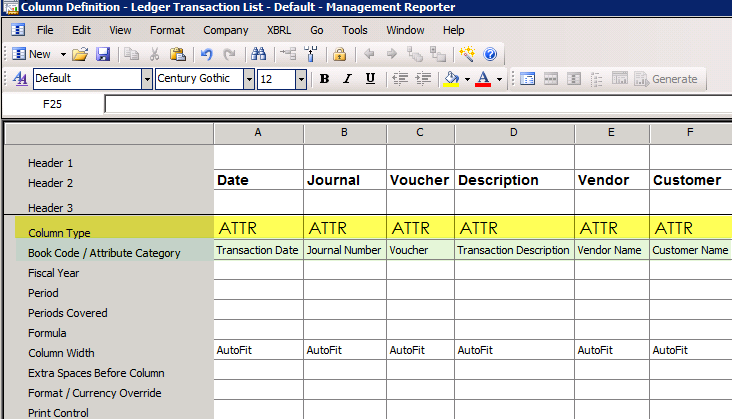 In the column definition, set Column Type to ATTR.
That allows you to drop down the box in Book Code / Attribute Category and take a look at the attributes available.
Here I've populated 6 different ATTR columns with different attributes, the last two being Vendor and Customer (two that will prove to be quite popular).
The attributes that are available are only the ones that are populated in the data mart. So you may not see all of these. But here is at least a partial list:
Account Category
Account Currency
Account Type
Acknowledgement Date
Active From
Active To
Amount Type
Budget Model
Budget Plan Name
Budget Plan Priority
Budget Plan Scenario
Budget Plan Workflow Status
Budget Planning Stage
Budget Type
Budget Class
Carry Forward
Comment
Consolidation Account
Created By
Currency Code
Customer Name
Document
Document Date
Document Number
Document Status
Entry Number
Group Dimension
Journal Category
Journal Description
Journal Entry Date
Journal Name
Journal Number
Last Modified By
Last Modified Date
Offset Account
Parent Budget Plan
Payment Reference
Posting Type
PostingLayer
Price
Quantity
Reason Code
Reason Comment
Return of Budget Funds
Reversal
Reversing Entry
Source Document
Status
Suspended
Totaling
Transaction Date
Transaction Description
By the way, AutoFit in the Column Width cell is a great idea so you don't have to fool around and guess at widths.
GP users may be scratching their heads and wondering what's up. You guys have had Vendor and Customer available in GP all along. But AX…not so much. I could explain, in a semi-convoluted way, why they haven't been available in AX—it has to do with a normalized database—but I'd rather move on. Suffice to say that the data mart is what's probably making this possible for AX users.
One more thing—you have to have a DESC and an FD column, or you won't be able to save the column definition. I usually put the attributes to the right of the last FD column because I think it looks better that way.
Over in the report definition, be sure to set the Detail Level correctly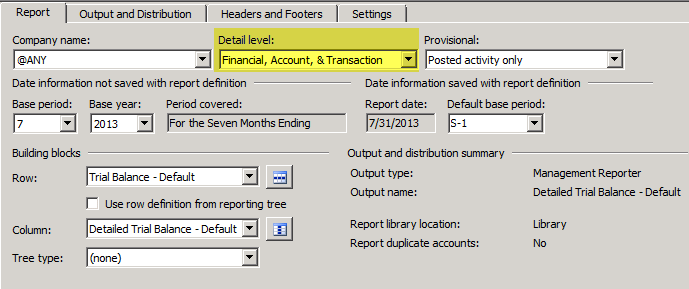 None of this will work if the Detail Level isn't right. Setting the Detail Level to Financial, Account, & Transaction is what allows you to drill past the summary levels and into the transaction detail to get to the attributes once the report generates.
Oh yeah, one more thing—you might experiment with the Shrink to page width option under the Settings tab > Other button.
Enjoy the drilldown! Cheers—Jan