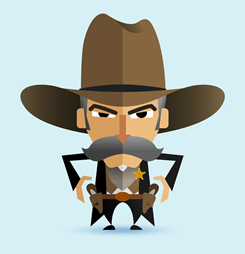 This marks the fourth time I've had a post plagiarized. Smoke coming out of my ears. There are some Dynamics consultants and partners who don't have the expertise that it takes to write a post, so they steal my content (sometimes verbatim) and pass it off as their own. So that's why I'm kicking ass and naming names today. I'm completely fed up and out of patience.
Writing a blog post on stolen content isn't what I had planned for today. I had volunteer work to do for Austin Pets Alive today, helping homeless animals find forever homes.
But instead, here I sit, about to discuss plagiarism.
I started consulting in 1994, and started writing this blog in 2006, long before it was popular to write about software. So because I've been around a while, and have truly expert content, I enjoy a nice search engine ranking.
So my blog gets found and followed by end users and consultants alike. I enjoy helping both.
What I don't enjoy is a consultant who steals my content and passes it off as their own.
The first time it happened, I was furious. A partner copied my Shootout post [a post which took forever and cost tons of money] on comparing FRx to Management Reporter. The partner handled it admirably; I can't give details due to a legal settlement, but I did get an apology and they removed the offending post quickly.
Second time, the partner was horrified and removed the post immediately.
The third time was infuriating. Big Dynamics AX partner who should know better. It was the Shootout post yet again, pulled pretty much word for word. It took DAYS for anyone to respond to my myriad complaints. There was quite a delay in removing their post, but they did eventually remove it. But they also left me with a bullshit response from their attorney: apparently I've "improperly confused plagiarism with copyright infringement". Oh, and my blog posts aren't "registered with the US Copyright Office." Seriously? Guess they missed the definition of plagiarism…and the copyright notice at the bottom of every page. Thanks [name deleted].
[They did have one consultant who reached out long after the fact, who sincerely apologized and investigated further. I had a deep appreciation for his interest.]
And now—a FOURTH time. [Name deleted], a GP and SL partner in the northeast, has plagiarized my Top 12 Tricks post. Their 12 are exactly the same as mine, and they couldn't even bother to change the order. They paraphrased the wording on the website, but they used my content verbatim in an MR webinar. Two days ago, I initiated contact via their website, facebook page, linked in page…and have had no response whatsoever. [Update 11/13/14: the offending post has been removed. Webinar too.]
Be careful who you work with—there are far too many frauds posing as experts out there. And I'm not the only expert to whom this has happened; there's lots of this going around. What ever happened to honesty and integrity?
I can't stand having this kind of negativity in my life. So I'm off to do some good for homeless animals. Jan