I am! It's one of my favorite cities in the entire world.
There are lots of Management Reporter sessions to boot. You can go to the Convergence 2013 website, to the session catalog, and do a search on keyword 'management reporter'. That will pull up the latest schedule.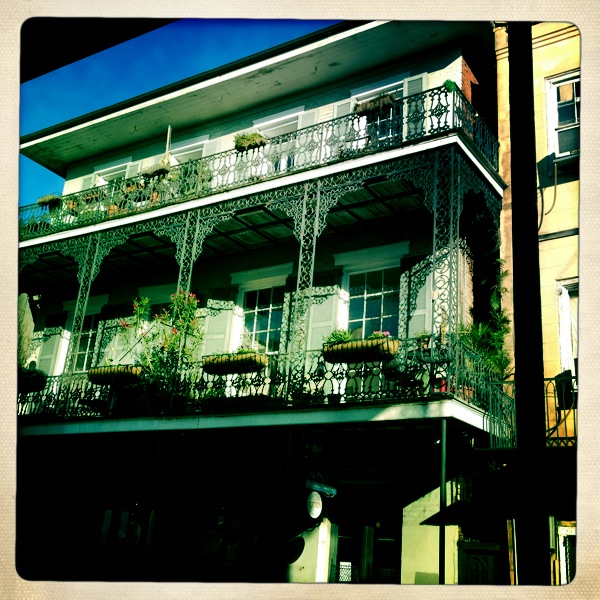 But for a change of pace, I thought I'd tell you about what I love about New Orleans. I started going when I was about 20. Almost didn't come home! Honeymooned with my husband there. And have been back many times. I always experience something new about this place. The art, history, music, architecture, food, and people make me fall in love with the city every single time I go.
These are some of my favorites. All but one is in the French Quarter. I walk everywhere, and most of these are casual.
Muriel's—on a corner overlooking Jackson Square. Snag a flyer on the history of the building. It was built sometime between 1743 and 1762 as a private residence, and was partially burned in a fire that swept the French Quarter in 1788. We're talking 1700's! After an extensive renovation, it opened as Muriel's in March of 2001. I think the architecture is amazing! Be sure to go upstairs and check out the bordello room. I usually grab a drink at the bar and head upstairs to the balcony to enjoy the view. 801 Chartres (pronounced 'charters' in New Orleans)
Stanley—also overlooks Jackson Square. Small place, chef-driven. One of my favorites for gumbo. Right across from Muriel's at 547 St Ann
Fritzels—this is the one place I never miss. New Orleans-y Jazz. My brother describes it as cartoon music from the 20s.  If Richard Scott is playing piano, don't miss—words can't even describe this world class talent. Every single time, I sit there mesmerized, not believing that I get to hear this live. This is a video of Richard playing Jelly Roll Morton's Black Bottom Stomp from 1925. 733 Bourbon
Evangeline—These guys are sort of new. The classy one of the bunch with brick walls, gas lights, great food, and it's quiet enough to hear a conversation. We (Harrigan and I) stumbled across them, newly opened, in late 2011. I was chatting with the bartender/owner, asked him about his dogs and cats, and found out he had FIVE border collies! Well, then I knew I had to introduce my border-collie-aficionado brother who was meeting us the next day. I did, and now his art hangs on their walls. If you see gorgeous watercolors of French cafe scenes from the 1920s on the walls, the artist is my brother Greg! 329 Decatur
Café Soulé—These guys are very new; I just found them on my last trip. Parisian crepes and other French in a casual setting. They're right across the street from Antoine's. 720 St Louis
Café du Monde—Another can't miss that's open 24 hours. Beignets and café au lait. My secret—ask for the café au lait "strong". It'll taste like Paris, sort of. 800 Decatur
LaFitte's Blacksmith Shop—lit by candlelight, this may be the oldest building in the country used as a bar. Music is hit or miss but when it's on it's REALLY on (1948 Steinway piano in back for singalong); when it's bad it's really bad; don't order a drink til you know what's up :) 941 Bourbon
Café Amelie—eat outside in their gorgeous courtyard or inside in the historic brick carriage house. This place has great food and is probably the most expensive of the bunch. I'm not big on reservations, but it's harder and harder to get in here, so I bite the bullet. 912 Royal
Sazerac Bar—in the newly-reopened famous Roosevelt Hotel. I love a sazerac. It's the oldest American cocktail and was invented (created?) in New Orleans. The Sazerac Bar is a historic place for sazeracs, and the Roosevelt Hotel is eye-popping; I went just for the architecture. 123 Baronne (not in Quarter)
OK, I'm running out of time, so here's a quick list of the others:
Lanaux Mansion on Esplanade—in movie Benjamin Button; gorgeous historic mansion bed & breakfast; proprietor Ruth is as fascinating as the history of the house; I haven't stayed there (yet!)
Acme Oyster House think it's on Iberville
Coops on Decatur—dive bar with good food
Old Absinthe House at Bourbon and Bienville
Pat O'Briens on St Peter I think (oh there's an entrance on Bourbon too) the building is so historic and fascinating
Carousel Bar on Royal in the Monteleone Hotel has been there since 1948
Royal Street antique jewelry in shops
Irene's is where locals go for Italian—side of building is on Chartres
Arnaud's for dressy Sunday brunch; try milk punch, meow
Arnaud's French 75 bar
Camellia Grill on Chartres; great food, fun servers, casual
On a more cautious note, New Orleans is not exactly a safe place, and the French Quarter is no exception. Be careful! If you don't believe me, google 'french quarter crime'. It'll knock your socks off, and not in a good way.
There's so much more here! Virginie Amélie Avegno was born in 1859 and raised in a 3 story house in the Quarter; I think it's on Toulouse. Who's she? She's better known as Madame Gatreau, the subject of John Singer Sargent's Madame X painting that caused such a scandal in Paris in 1884.
So many more stories like this! I hope you enjoy New Orleans as much as I do!
Cheers—Jan