Here's quite a discussion on FRx Service Pack 10!
I've been asking around and really hadn't heard of any issues with FRx's latest service pack, SP10. It was released in March of this year. But here's what I've personally found with SP10.
FRx SP10 The Good
There now seems to be what I call 'accelerator' control. In the past, when you're using a mouse to try to highlight a large group of cells in a row format, it's always been difficult since there's no way to slow the mouse down. With excel, you can use the mouse like an accelerator, dragging slowly to highlight slowly, and dragging quickly to highlight quickly. There has been no such feature in FRx, and I always avoid the mouse and just use the Shift key in conjunction with the Arrows or Page Up and Page Down keys. But with SP10, accelerator control seems to be added. Sweet.
The middle mouse scroll button appears to work, although I got it to work in a SP7 environment today.
You now have the option to format negative numbers in red. In the Catalog, go to Report Options>Formatting tab and there is a checkbox. The downside is that you cannot restrict this to just one column, like a Variance column for instance.
It's much much easier to clean up a spec set. You no longer have to go to Export Spec Set to see what building blocks are not associated with a catalog. Each building block is clearly marked with a checkmark in the listing if it is associated with a catalog, making it easy to see which ones to delete.
You can delete multiple rows at the same time. HALLELUJAH. Same with columns and trees. I love it.
FRx SP10 The Bad
This really isn't too bad, but the interface for opening rows, columns, and trees has changed. If you're in a row and click the Open icon to open another row, a dialog box opens that defaults to the catalog listing. You then click on the Row tab to get to the row listing. If you're opening multiple rows it will take more mouse clicks than you're accustomed to. Takes some getting used to. And you're still limited to 4 open at a time.
When restricting column printing using Column G in the row format, the restriction appears to apply to underscores above and below the cell that's restricted. This may be cosmetic more than anything. I hope it's limited to underscores and that it doesn't impact any numbers that may be there. I haven't tested yet.
FRx SP10 The Ugly
The CS format in the row forces 2 decimals to print. Doesn't matter if the report is rounded. Looks very strange unless you unmark 'Currency Symbol on 1st Row' in the Report Options>Formatting tab (for every report). It even overrides a format mask set in the column. If you've got a column formatted for percentages, this is what it will look like with a CS on the first row: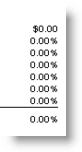 There are multiple cells deleted when you're trying to delete just one. It doesn't happen every time, but it does happen enough that it can be a REAL problem. (As you probably know, there's no Undo, so if this blows away a couple of extra rows that you have a complex formula on, and you haven't saved, you're toast.) To delete a row, I normally just right click in one cell and choose Delete Row (instead of highlighting the whole row). To be fair, I haven't tested highlighting an entire row.   Followup on 11/15/08: Since this was originally posted, I've worked on another SP10 site where I did NOT experience the 'multiple cells deleted' problem described above. The developer has not seen it and one of the commenters below has not seen it, so I'm thinking/hoping this was simply an environmental issue.
Recommendations
Despite the fantastic improvements, I'd stay away from SP10 if you use percentage columns.  If you're already on SP10, best get rid of CS formats if you're rounding reports, or know how to add formatting to a TOT row as Ken Webber mentions in the 1st comment below.
If anyone wants to comment on personal experience with SP10, have at it!