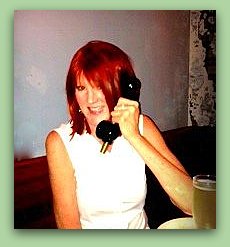 Hey! I'm a CPA and I specialize in Management Reporter and FRx. [Sometimes with a side of snark.] I've been doing this for 22 years. CPA for 30+ years. Yikes. When I'm not working I can be found reveling in live music & pizza trailers at home in Austin Texas.
Why on earth should I be the one to teach you Management Reporter?
It was 1995. I had already been a CPA for 10 years, but I was a brand new consultant. I implemented what's now known as Dynamics SL. Even installed it—on Novell servers, for crying out loud. Back in the day when we carried pagers and strung telephone cords from laptop modems.
One of my first SL clients was a huge company with a wealthy family at the helm. They needed lots of complex financials—both personal and for the business. I was treading deep water with FRx. Sharks circling. But the awesome folks at FRx tech support were an incredible lifeline. I learned so many advanced techniques from them, how to simplify, and what not to do. And I just fell in love with FRx.
I loved creating reports so much that I soon scrapped the SL implementations and started specializing in FRx.
Fast forward 20 years. FRx is toast. Its successor is Management Reporter. Meanwhile:
I've traveled all over the country teaching FRx and MR to clients using their own data. [Definitely not for the faint of heart.]
I've written the popular 3-book series Creating Reports in Management Reporter. [If I ever want to write a 4th, just kill me now.]
I've taught consultants and end users alike. [Talk about unique requirements.]
I'm known in some circles as the FRx/MR Queen [LMAO]
So I sorta really know what I'm doing. But there's only one of me. And it's time to scale and bring this knowledge to lots of people. 
And while I don't exactly love Management Reporter (too many missing and odd features), I do love helping people use it more effectively so they can have a life. It's so incredibly gratifying.
Other Stuff (in case you've got time on your hands)
Recently I've been shaking things up—working a little less, volunteering more. I just took a French class. I like to think I'm French but really I'm about half Cajun. Trying to make seafood gumbo like my grandfather did (I'm lucky enough to own his big cast iron skillet), but it's not a pretty sight. Family calls me "Train Wreck In The Kitchen" and "Hurricane Lenoir". C'est la vie.
[Apparently I'm much better at Management Reporter.]
I collect those beautiful round tops that live on top of champagne corks but under the wire hood. I drink the champagne just so it doesn't go to waste. Love Austin's fantastic live music and dancing within walking distance of home. Love New Orleans—art, history, architecture, music, food, drink, dance, people, fun. Sazerac in a go cup, meow!
No spring chicken. Aggie. Addicted to NFL but trying to quit [sigh]. [2017 update: I didn't watch NFL in 2016!—thank you NK] Have a way cool handsome husband of many years and 3 kitties, 2 of whom are rescues. We also have 4 neighborhood cats who love us (because we won't let them go hungry).
Goes without saying, animal lover. Volunteer for Austin Pets Alive!, the organization that makes it possible for Austin to be the largest no-kill city in the country. One day I'll help them spread their no-kill knowledge all across the country. Hopefully in an online course.
Wish I could sing like Ella. Unfortunately, I sing more like Lucy. Cheers y'all—janlenoir


 —Nancy Kelly, Austin Texas