Management Reporter 2012 has just been released. Here's the latest scoop from Convergence in Houston a couple weeks ago.
Off the bat, here are the ERPs it works with: AX2012, AX2009, GP2010, SL2011, and NAV2009.
One of the biggest changes involves this formatting of account numbers (that just about everyone has complained about):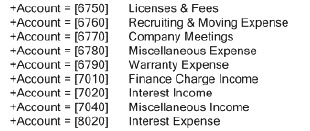 You now have the option to turn the '+Account ='  description on or off on a user-by-user basis.
Features from FRx that have been added:
Missing Account Analysis—this sort of equates to Exception Reporting in FRx, although implemented in a different way.
Headers for rolling forecasts—I create lots of Forecast reports (actual through current period, then Budget for future periods), and spent some time early on trying to figure out why I couldn't get Base+1 to work in a column header in MR. Turns out it wasn't there. But it is now.
One of the biggest additions is Drillback capability: [click to continue…]
{ 19 comments }